Because I practice in a wide variety of areas, I understand how different aspects of the law impact one another. This helps me more effectively serve you in your case.

2

.
Straightforward Advice
At my firm, you get clear and honest counsel. In fact, I'll even tell you if you do not need representation because I believe in the value of ethics and transparency.

I'm emotionally invested in each and every client of mine. Whether you're looking for an ear to listen or an advocate to fight, rest assured that you can lean on me.
ROMAN KOSTENKO
LITIGATION ATTORNEY SERVING PHOENIX, AZ
"If there's one thing clients should know about me, it's that I'm not afraid of a challenge."
I was first introduced to the law when I successfully completed my own green card application without any formal knowledge of U.S. immigration regulations. No matter the situation, I am ready to jump in and master the ropes. Obstacles merely inspire me to persevere.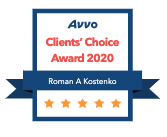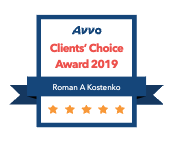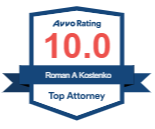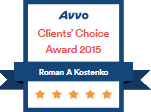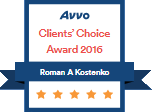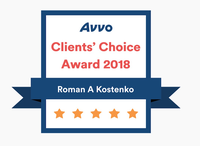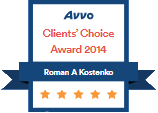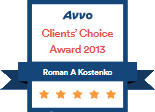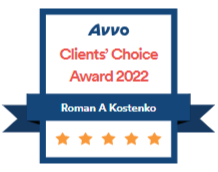 The best attorneys
NEVER STOP LEARNING.
Since the law is an ever-changing entity, it's important that you work with an attorney who makes a point of staying up to date. In addition to performing independent research, I am dedicated to taking continuing legal education (CLE) seminars. This keeps me well-informed of current local laws, as well as best practices regarding your case.
PRACTICE AREAS
My diverse background strengthens my practice in each individual area.
---
NOTABLE CASES
Clients often seek my counsel for one matter but end up solving many.
TRUCK ACCIDENT
A self-employed individual was injured, suffered damages to his vehicle, and lost income after he was sideswiped by a semi-truck that belonged to a major national transportation company.
Client compensated for medical bills, auto repairs, lost income, and pain and suffering.
ALIMONY REDUCTION
A husband agreed to pay to his ex-wife 50% of his income as spousal support. Other lawyers deemed his case a lost cause and did not think that the reduction was possible.
Successfully lowered payments from $2,500 to $500 per month.
BUSINESS DISPUTE
A mom and pop business was sued for misappropriation of trade secrets, trade dress, interference with business relations, and defamation. They were on trial on criminal charges, as well.
Achieved favorable settlement and cleared criminal restitution order.
PROUD TO SERVE THE
PEOPLE OF ARIZONA
---
PHOENIX
In order to best serve my clients, I established my office in a centralized location — Phoenix. If you live in or near the state capital, know that I am just a phone call away. I would be more than happy to guide you through your legal concern, whether it involves a business dispute, civil dispute, personal injury, real estate matter, divorce, estate plan, or probate.
MARICOPA COUNTY
Of course, my practice isn't limited to Phoenix. Arizona, as a whole, will always have a special place in my heart. The people of Maricopa County are my lifelong friends and neighbors. I am proud to serve them.
ATTORNEY & PROFESSIONAL REFERRALS
Let's each focus on what we know best. Contact me for local counsel in Phoenix.
I practice in a wide variety of areas, and I've taken the time to build a trusted network of contacts. Therefore, even on the off chance that I can't help you personally, I likely know someone in Phoenix or a neighboring county who can. So, please, do not hesitate to reach out to me regarding legal representation in Arizona. Your referral is the highest compliment I can receive, and I will be sure to provide the best level of service possible to your client or loved one.
WHAT MY CLIENTS HAVE TO SAY
Learn how I've helped others like you.
Roman is very knowledgeable, helpful with many aspects such as business and divorce. He gets to the point quickly. I highly recommend Roman.
Roman was very generous with his time, and his rates are quite reasonable. He handled my needs with professionalism and complete competence.
[Roman] was professional, polite and treated me with respect. He was quite affordable too.
SEEING THE BIG PICTURE ALLOWS ME TO BETTER UNDERSTAND THE DETAILS OF YOUR CASE
Though my practice is diverse, the common thread is dispute resolution. While mediation and arbitration are sometimes used to reach an agreement between two opposing parties, litigation is the most common method. I have extensive experience in the courtroom and have successfully completed many trials, arbitrations and settlement conferences.
What people sometimes fail to realize is that the skills of a strong litigator are the same no matter the type of case. In fact, having a varied background can even prove to be an asset. After all, if you become too focused on a single area, your ability to problem solve creatively can be stifled. Furthermore, you may fail to see all of the consequences of the case at hand.
Let me give you an example. Say a couple comes to me seeking a divorce. Rather than simply addressing the immediate situation at hand, I will look into their circumstances as a whole. If I discover that the couple owns a business, for instance, I will explain the different ways in which they can successfully divide their business, as well as the effects each decision might have on their taxes and child support payments.
Scenarios like the one above are more common than not. Clients often see speaking with an attorney as the first step toward resolving a particular issue, but I help them look into the future and prevent their present actions from leading to further obstacles down the line.