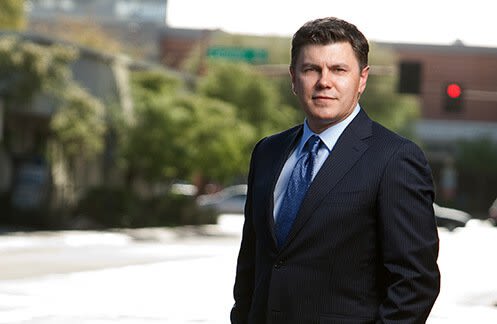 In 1999, I received my green card after immigrating to the U.S. from Russia. Beyond granting me the rights to be a permanent U.S. resident, the green card application process also inspired me to become an attorney. You see, my own immigration attorney dropped the ball, and I ended up completing most of the application on my own. After familiarizing myself with U.S. immigration law and successfully receiving my green card, I figured I could help other immigrants with the process, too. So, the same year I became a permanent legal U.S. resident, I also took the LSAT and enrolled in law school.
As my education progressed, I began to cultivate an interest in many areas of the law, and I decided it was best not to limit myself to any one subset. I have continually found that my broad background allows me to better see the big picture and more effectively resolve individual cases. For example, if a person who owns a business comes to me seeking a divorce, my knowledge of business law would allow me to help restructure his or her company or complete a buyout of the other spouse's interest, and my real estate training would assist me in negotiating the terms of their current lease agreement, or a new agreement if they decide to relocate the business.
Due to my own past, I have a unique understanding of the lasting impacts of a single case or circumstance. After all, if I'd never have obtained my green card, I wouldn't have had the opportunity to build my career as an attorney in the U.S. or enjoy the life I do today. For this reason, I'm just as emotionally invested in my clients' cases as I was in my own. I do whatever it takes to attain a positive result.
I work in a service profession, and my ultimate goal is to provide you with peace of mind.
SHARPENING MY SKILL SET
Perhaps the biggest way I can provide quality representation to my clients is by furthering my education. While the State Bar of Arizona only requires 15 hours of continuing legal education courses (CLEs) every year, I often far exceed this number, sometimes reaching over 200 hours in a 12-month period. As a member of the National Business Institute, I have access to unlimited live and online seminars, and it would simply seem wasteful to not take advantage of the invaluable resources within my reach. Due to the high number of CLEs I take every year, I am also proud to be a member of the Texas Bar College, which is an honor given to attorneys who take 45 or more hours of CLEs every year.
EXPLORING BEYOND THE FIRM
Outside of the firm, I spend most of my time with my family. I have two boys, ages 10 and 13, and we enjoy traveling and spending time outdoors. Whether we're at the lake, the beach, or the mountains, I try my best to keep our trips adventurous because, much like in my practice, I believe it is important to continually learn and explore.
BAR ADMISSIONS
​State Bar of Texas (2017)

State Bar of Arizona (2006)

State Bar of California (2003)

State Bar of Ohio (2002)
EDUCATION
Juris Doctor, Magna Cum Laude - Cleveland-Marshall College of Law (2002)
CONTINUING LEGAL EDUCATION
2018-2019: 54.75 CLE hours, 11 in ethics

2017-2018: 44.5 CLE hours, 5 in ethics

2016 - 2017: 83.25 CLE hours, 11.25 in ethics

2015 - 2016: 34.25 CLE hours, 5 in ethics

2014 - 2015: 56.5 CLE hours, 6 in ethics

2013-2014: 62 CLE hours, 9.75 in ethics

2012 - 2013: 234.25 CLE hours, 21.5 in ethics
LEGAL EXPERIENCE
Managing Attorney - Law Office of Roman A. Kostenko, P.L.C., Phoenix, Arizona (2011 to Present)

Associate Attorney - Cheifetz Iannitelli Marcolini, P.C., Phoenix, Arizona (2006 to 2011)

Associate Attorney - Freeman, Freeman & Smiley, LLP, Los Angeles, California (2006)

Judicial Research Attorney for Judges George Wu, Terry Green, and Alexander Williams III - Los Angeles Superior Court, Civil Division, Central District, Los Angeles, California (2005 to 2006)

Associate Attorney - Thompson Hine LLP, Cleveland, Ohio (2002-2004)

Law Clerk - Berkman, Gordon, Murray & DeVan, Cleveland, Ohio (2000 to 2002)
PROFESSIONAL ASSOCIATIONS & MEMBERSHIPS
Texas Bar College

State Bar of Arizona

Maricopa County Bar Association

U.S. District Court for the District of Arizona

State Bar of California

U.S. District Court for Central District of California

U.S. District Court for Southern District of California

State Bar of Ohio

Southwest Valley Chamber of Commerce

ITT Technical Institute, Program Advisory Committee (Paralegal Program)

Cleveland State Law Review, Managing Editor (2001 to 2002)
PUBLICATIONS
"Are 'Contemporary Community Standards' No Longer Contemporary?" - Cleveland State Law Review, Vol. 49, Number 1 (2001)

Contributing author of the chapter on Ohio law for the State-by-State Guide to Architect, Engineer and Contractor Licensing; Aspen Law & Business (2004)
SPEAKING ENGAGEMENTS
Non-Judicial Foreclosure Process, Anti-Deficiency Laws and Tenants' Rights After Foreclosure - Maricopa County Bar Association's Annual Paralegal Conference

Guest Speaker on Legal Writing - ITT Technical Institute, Paralegal Program

Guest Speaker on Family and Divorce Law - "Legal Briefs" program, State Bar of Arizona